Geology for Civil Engineers, 2nd Edition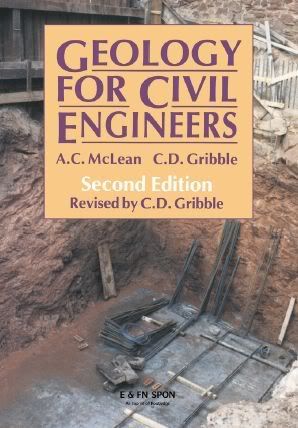 †
Geology for Civil Engineers, 2nd Edition Information : Author : Collin Gribble | Published by E & FN Spon | Publication date : September 1985 | ISBN : 0419160000 | PDF Format, 348 pages | English | Original File Size : 9674 KB | Compressed File Size : 8886 KB
Overview : In a major engineering project, a systematic exploration and investigation of a new site might be carried out and reported on by a consultant specialising in geology, geophysics or engineering (with a detailed knowledge of soil and rock mechanics). However, even when the services of a specialist consultant are employed, an engineer will still have overall supervision and responsibility for the project.
†
†Therefore, the engineer must have enough understanding of geology to know how and when to use the expert knowledge of consultants, and to be able to read theiir reports intellegently, judge their reliability, and appreciate how the conditions described might effect the project.
†
Download Link :
http://rapidshare.com/files/179446449/GeologforCivEng.rar
Most file sharing sites (eg: Uploaded, Rapidgator, Netload, Letitbit, Zippyshare & Putlocker ) offer you a Free download and Paid download option. These sites are excellent sources for Geology for Civil Engineers, 2nd Edition free download torrent.